Products
1/2" DF-40A

CRAFT TYPE (ALUMINIUM ALLOY)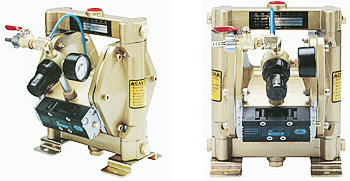 FEATURES :
The pneumatic valve is European imported with ISO 5599/1 Size 1 standard.
Small dimension, light weight, and capable of delivering fluid rapidly, easy to exchange paint colors.

APPLICATION FIELD :
Paints, inks, dyes, adhesive, ceramics, industrial waste water, oils, water solvents, commercial commodities, chemical materials, resins, cooling water spraying for Zn-Al die casting, and plastic injecting molding.
SPECIFICATIONS:
| | | |
| --- | --- | --- |
| Model | 1/2" Delicacy Type | 1/2" Craft Type |
| Material | Polypropylene | Aluminium Alloy |
| Flow Rate | 45 liters/min | 45 liters/min |
| Outlet Orifice | 1/2" NPT | 1/2" NPT |
| Pressure Ratio | 1:1 | 1:1 |
| N.W. | 3.9kg | 5.8kg |
| Pump Size | 205 x 150 x 270 mm | 185 x 155 x 230 mm |