Products
1/2" DF-40P

DELICACY TYPE (NON METAL)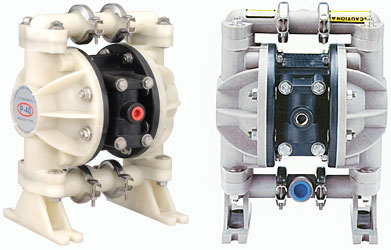 FEATURES :
The pump is made of synthetic plastic (Polypropylene) which can be resisted to chemical solvents, particularly acids and alkali corrosion.
The pump is designed with no shaft and related components, free of leakages. There is no metal and electric parts for the fluid transferred and the pump does not cause electricity conduction and sparks.
The pump is adopted reciprocating motion, the air is leaded by piloted lever and delivered to the air dynamic valve to drive diaphragms in actions and develop transferring fluid capacities.
There is no dead angle in the interior of the pump and the pump is equipped with three swiveled manifolds, which can be freely adjusted in 360° motions during piping assembly.

APPLICATION FIELDS :
Paints, inks, dyes, adhesive, ceramics, industrial waste water, oils, water solvents, commercial commodities, chemical materials, resins, cooling water spraying for Zn-Al die casting, and plastic injecting molding.
SPECIFICATIONS:
| | | |
| --- | --- | --- |
| Model | 1/2" Delicacy Type | 1/2" Craft Type |
| Material | Polypropylene | Aluminium Alloy |
| Flow Rate | 45 liters/min | 45 liters/min |
| Outlet Orifice | 1/2" NPT | 1/2" NPT |
| Pressure Ratio | 1:1 | 1:1 |
| N.W. | 3.9kg | 5.8kg |
| Pump Size | 205 x 150 x 270 mm | 185 x 155 x 230 mm |