Products
DF-40A

CRAFT TYPE (ALUMINIUM ALLOY)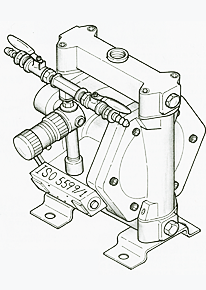 I. GENERAL DESCRIPTIONS :
The pneumatic double diaphragms pump utilizes the air-driven principle with high safety measurement. It does not generate any sparks and resists to explosions.
The pneumatic valve is adopted to meet ISO 5599/1 specifications and no lubrication oil required after long hours of operation.
Wide range of applications: Polyurethane paint, UV curing, inks, and etc.
Compact, light weight, portable, simple operations and easy to change paints. Applicable to different types of storage tanks.
II. SPECIFICATIONS:
Fluid rate: 45 liters/min
Pressure ratio: 1:1
Used air pressure: 1.5~3kg/cm2
Max.pressure: 7kg/cm2
III. INSTALATIONS:
The pump can be wall, cart, stand, or pail mounted.
The air inlet must be installed with the air cleaner to prevent dirt from entering into the air pilot valve and damaging components.
Employ single pipe and prevent dead angles in order to maintain smooth transporting.
IV. HOW TO OPERATE :
Adjust the operating pressure accordingly to the transporting range.
The operating pressure cannot be less than 1.5kg/cm2. If there is a shortage of air pressure, the pump will not be operated smoothly and it can possibly cause pump to be clogged.
The piping system must be cleaned after the work daily. Especially, when the pump is used for heavy viscosity painting. It is highly recommended that pumps should be cleaned completely for clog-free operation afterward.
V. TROUBLE SHOOTING :
In the case of disassembling the pump for maintenance, shut the air inlet or release it and the paint outlet must be released as well.
Do not operate pumps under the following conditions:
Pumps are clogged.
Diaphragms are damaged.
Possible causes when there is no suction force:
The ball seat is clogged at suction orifice.
The suction pipe is damaged, which can reduce paint spraying smoothness.
The pump has not been operated for a long time and the paint becomes hardened.
VI. PARTS LIST :
Pump body
Inlet nozzle of pilot valve
Pneumatic pilot valve
Screw
Nipple
Presure gauge
Cock
Pressure regulator
Air inlet diaphragm
shaft
O ring
Retaining ring
V Packing
Bushing (Bronze)
O ring
Retaining ring
Gasket
Fixed plate of diaphragm
O ring
Rubber diaphragm
Teflon diaphragm
O ring
Fixed plate of diaphragm
Screw nut
Pressure stabilizing tank
Counter-sink screw
Manifold
Plunger
End cover
Counter-sink screw
Check valve
Check valve post
O ring
Pin
Plug
Muffler
Plug
Manifold
Plug
Base
Counter-sink screw
VII. DISASSEMBLY FIG :